Ritual Hair Design Hillsboro Oregon
a full service hair salon
Ritual Hair Design, in Hillsboro, Oregon, is recognized as a high end, full service hair salon, specializing in innovative hair color techniques, and cutting styles, in business since 2001. We are known for and committed to long-lasting connections with our clients, as well as developing new relationships with each new client.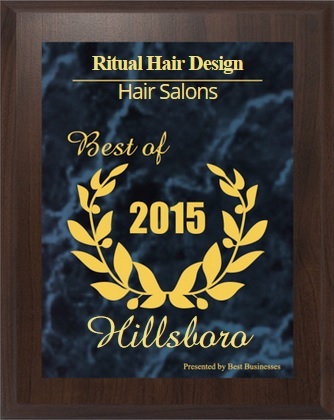 Our guests quickly become part of the Ritual family! Our stylists are the best in the city; with a strong educational foundation and continuing professional development courses, their top-notch skills and professional recommendations will deliver the results you're looking for.
We welcome you and invite you to relax and enjoy the Ritual team's customer care and friendly atmosphere. From the moment you enter you will feel relaxed and welcome. We strive to instill a sense of pride and confidence in your finished product. We invite you to join us for great hair service as well as excellent customer service.
Ritual Hair Design in Hillsboro, Oregon is made up of many knowledgeable stylists, most of which have been at the salon for five years or more. The education and product knowledge that we have obtained is unsurpassed. The stylists at Ritual have a deep commitment to providing excellent services and an outstanding customer experience. The staff attends cutting and product knowledge throughout the year. At Ritual, you will find top-notch professionalism and the inspiration that is experienced here is beyond belief!
Ritual Hair Design was established in June 2001. The owner and our staff all have between 5 and 25 years of experience. Because we have known and worked with each other for years, we are truly grateful and believe that it shows in the quality of our service.
Our goal is to provide a welcoming atmosphere in which our clients feel relaxed and pampered. Our wealth lies in our desire to please our clients, our passion is for the care of your hair and our hope is that you leave Ritual Hair Design feeling fantastic!
We're happy to announce that we are now booking appointments online. What are you waiting for? Book your own appointment now!